The SARPCO Values guide our choices and decisions and influence the way we conduct our business. They are also the standard against which the company's conduct and that of its employees is judged. The SARPCO Values apply to all Sarpco employees, regardless of what and where they are based. They also apply to companies or businesses acquired by SARPCO – which are required to achieve compliance with the SARPCO Values within a set period of time. In forging structural relationships with other companies, we try to ensure that these partners respect the SARPCO Values in all joint endeavors.
INTRODUCTION
With huge number of operations and projects in KSA and GCC. SARPCO is globally active in the fields of industrial, safety rubber products and performance materials. As such, SARPCO is very much part of society. We are aware that companies are increasingly under public scrutiny and that SARPCO, as an integral part of the community. We understand that public acceptance of our activities is a necessary condition for our success. Because of this, we are guided by the SARPCO Values. We are stating these values clearly so that everyone – both in and outside the company – knows what SARPCO is and what we stand for. What you will find here is not a new set of rules but an updated version of the values underlying our code of conduct, organized with three key audiences in mind: our customers, our employees and the communities where we do business.
CORE VALUES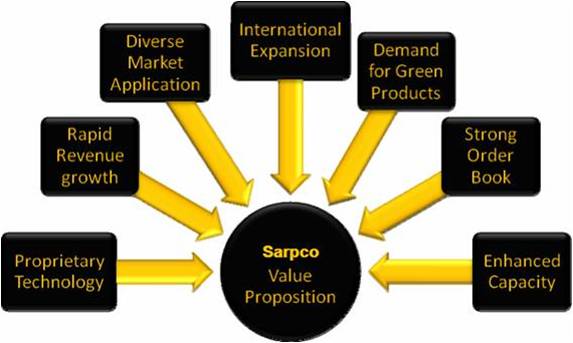 • Our activities are aimed at creating value: value for our customers and shareholders, as well as for our employees and the communities in which we operate. We achieve this goal by combining entrepreneurial drive with an awareness of the need for continuity and a strong sense of responsibility.
• We serve the interests of our customers, employees, shareholders and business partners. To a large extent, our success depends on their success. Our relationships with our customers and other business partners are valuable partnerships We take into account the interests of the communities in which we operate and the demands and requirements of local, regional, national and international authorities and relevant interest groups.
• People are the key to the success of any business, and this is no different in a science and technology based company like SARPCO. For this reason, Respect for people forms a cornerstone of the SARPCO Values. Moreover, we know that we cannot succeed without a "license to operate" which we can only secure through good corporate citizenship.
• We pursue a policy of transparency and openness, providing clear information about our activities, strategy, financial policy, organizational structure and the impact thereof on society and the environment.
• We periodically publish reports in which we account for our performance with respect to financial results, social policy and safety, health and sustainable development. These reports also contain an evaluation of our compliance with our own SARPCO Values. We strive for an active dialogue with the public at large and with the communities in which we operate.
VALUABLE PARTNERSHIPS
Within our goal to create value, SARPCO's challenge lies in contributing to the success of our customers and the end users of our products.

• We reject any restrictions to free trade other than duly enacted national and international laws.
• In accordance with the principles of product stewardship, we identify, manage and minimize the risks attached to our products during their entire lifecycle. In this connection, we share relevant knowledge, expertise and experience with our suppliers, customers and other parties.
• When considering a business partnership, we base our choice of partner not only on economic considerations, but also on the prospective partner's track record in the field of safety, health and environment management and sustainable development.
• In making decisions, we take into account the views of our shareholders, customers, suppliers and employees.
• Our employees will not give or accept gifts that could compromise or raise doubts about the neutrality of the decisions made by either of the parties involved.
• Our employees are required to contact management if there are any indications that a business partner is conducting illegal practices or is consistently infringing the SARPCO Values.
RESPECT FOR PEOPLE
Openness, fairness and trust form the foundation on which employer-employee relations at SARPCO are based. We encourage our employees to be capable, reliable, empowered and responsive. Respect for employees and employee integrity are the cornerstones of our human resources policy.
• We invest in the knowledge and skills of our employees on an ongoing basis to ensure their long-term employability.
• We create an atmosphere of candor and stimulate openness and accountability by involving our employees in the development and execution of our business objectives.
• We provide our employees with coaching and mentoring for growth and personal development.
• We pursue a fair and competitive  remuneration policy with due recognition for performance.
• We recognize our employees' right to organize themselves in order to protect their own interests.
• We seek to create an incident- and injury-free work environment. At all levels, our employees play an active role in identifying and rectifying unsafe situations.
• We do our utmost to prevent the occurrence of occupational illness and health problems associated with the company's activities.
• We do not use forced labor.
• We do not discriminate in any manner on the basis of race, ethnic background, age, religion, gender.
GOOD CORPORATE CITIZENSHIP
• To ensure our future and secure our "license to operate", we want our operations to be not only profitable but also socially acceptable.
• As part of this social commitment, we endorse the obligations formulated in the Rubber Products industry's Local Responsible Care Program.
• We are keenly aware of our responsibility for the environment and we endorse the importance of sustainable entrepreneurship. To us, in our corporate role, this means conducting our activities in a way that meets today's needs without compromising the ability of future generations to meet their needs.
• Our choice of production processes and products is guided by our commitment for promoting sustainability and safety. We exercise great prudence in developing new technologies, taking public opinion seriously into account. Moreover, in line with our policy of transparency and openness, we provide our customers and the general public with clear information about our products and production processes.
• We make an ongoing effort to minimize the use of raw materials and energy in our production processes.
• We continually evaluate and improve our working methods, production processes, products and services so as to ensure that they are safe and acceptable from the point of view of our employees, our customers, the public at large and the environment.
• We abide by the laws and regulations in force. If these leave room for practices that clash with the SARPCO Values, employees are required to report this to company management.
• Our employees are aware of and show respect for local traditions and customs.
• In emergency situations such as natural disasters and public disturbances. we give top priority to the safety of our employees and residents living near our production sites.
• We encourage our employees to adopt a civic-minded and socially responsible attitude.
• Our employees are to avoid even the suggestion of a conflict of interest between their official functions on behalf of the company and their conduct as private citizens that might compromise their integrity in their official capacity or compromise the integrity of the company.