The mats are constructed of lightweight, high-density, cross -linked EVA foam. They will protect your floors, reduce noise and provide a comfortable, but firm shock-absorbing surface. These mats are waterproof and easy to clean. Each outside edge of each puzzle mat is finished with an interlocking smooth edge for a finished look. This edging is easily removed if you`re looking to expand area coverage by adding more mats. Interlocking EVA foam mats are an ideal platform for many sports. They come in a variety of thicknesses, densities, mat sizes and colours. And this Interlocking mats provide a safe training area for sports such as martial arts and kick boxing. Some jigsaw mats are reversible with alternate colours on each side. Alternating colours allows for distinct training areas to be created. Jigsaw mats can be interlocked and can be laid on a multitude of surfaces. They are easily cleaned and resistant to tearing. Jigsaw mats are very popular at the martial arts shop.
Safety Tests Passed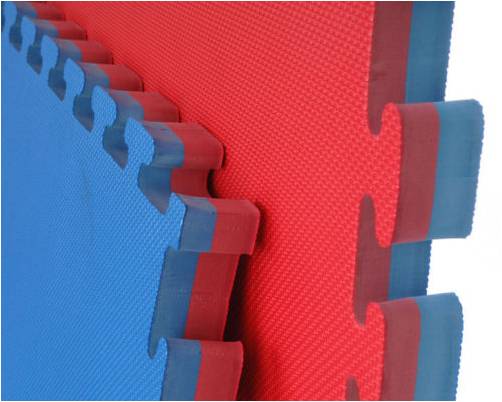 European EN-71 and US ASTM F963-07 Flammability Tests
EN-71 Toxic Elements Analysis- PASSED
US ASTM F963-07 Material Quality- PASSED
Features
Double Sided - Double Color
Border Strips Included
Water Proof
Tough Top Surface
Shoes & Boots are OK
Durable EVA High Density Foam
Expand Your Floor as needed
Applications
Functional fitness training
Home floor exercise
Home and studio pilates and yoga spaces
Exercise rooms and areas
Removable basement flooring
Dog agility sub flooring
Workstation & workshop anti-fatigue matting
Trade show flooring
Martial arts
Car campers- use our mats instead of a ground cloth
Other colours according to clients' need.
All colors are representative of the materials used in production, but there could be a color variance based on the Internet and your computer`s monitor.

Available Sizes

Width: 1m; Length: 1m; Thickness: 20mm,25mm
Width: 1m; Length: 1m; Thickness: 15mm,30mm
Width: 1m; Length: 1m; Thickness: 25mm,30mm,40mm
Width: 1m; Length: 1m; Thickness: 25mm
Width: 1m; Length: 1m; Thickness: 30mm
Width: 1m; Length: 1m; Thickness: 20mm,40mm
Width: 1m; Length: 1m; Thickness: 25mm,40mm