SARPCO Equestrian and Stable Rubber Flooring.
Stable floor and wall tiles
Resilient and durable flooring is also needed by your pet horses to provide comfort and lessen their fatigue. Their body movements while on stable is also of utmost importance. Our high density tiles will help you ease their pain
Typically used for horse stables and walkways that require high safety and durability.
| | | |
| --- | --- | --- |
| Sarpco Equine Tiles | | |
| | | |
| --- | --- | --- |
| Sarpco H Paver | | |
| | | |
| --- | --- | --- |
| Sarpco 6-H Paver | | |

Features

| | |
| --- | --- |
| | Top quality with drainage fall. |
| | Easy maintenance & installation. |
| | Anti-slip. |
| | Durable. |
| | Good walking comfort. |
| | Anti-fatigue |
Sarpco Equi-Flex Seamless Flooring
"The only choice for your Seamless Equine Flooring needs"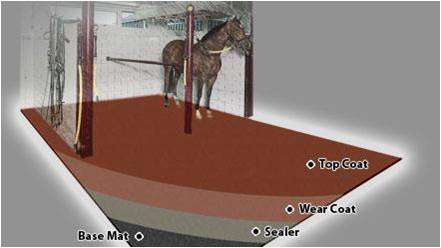 What are Equi-EvoFlex Seamless Flooring Systems?
? A "poured-in-place" permanent rubber flooring system. "Poured-in- place" is custom installed at your location giving you a seamless, one piece rubber surface.
? The cushion layer is a unique combination of recycled rubber and a high strength polyurethane. This technology is similar to that used with a high quality athletic track application. The top "wearing" layer is a 2 component polyurethane surface that is sprayed down after the cushion layer below is cured.
? Can be installed in any depth, from 23mm to 33mm thick, depending on specific application.
Why use Sarpco Equi-EvoFlex Seamless Flooring Systems?
? Promotes a bacteria-free surface: Our innovative new flooring systems allow you to completely sanitize your floor without having to spend your valuable time removing other floor or wall matting. With our permanent floor system, all the contaminants and bacteria stay on top of the surface, so all you have to do is disinfect and spray the floor down.
? Premium slip resistance: Our flooring system provides animals with the safest footing available. It can be installed with varying degrees of "grit" for traction which is dependent on the application for which the surface will be used. We have different flooring systems, for specific applications such as recovery stalls and breeding areas.
? Superior cushion: Our flooring system offers at least twice the cushion as most flooring products on the market, thus allowing the hoof to sink into the mat, helping reduce the possibility of slipping and sliding as seen with regular matting. Research also suggests that Sarpco Equi-Flex promotes increased hoof expansion, thus allowing for better circulation.
Sarpco Equi-EvoFlex Seamless Flooring Systems application, installation, pricing, and color:
? Surface preparation: Sarpco Equi-EvoFlex can be installed over any compacted, leveled surface; such as concrete, asphalt, and most types of crushed stone.
? Installation: Only qualified installation contractors install Sarpco Equi-EvoFlex Seamless Flooring Systems.
? Pricing: Pricing is quoted individually for your specific needs. Additional charges for shipping and installation if included in the P.O. will apply.
? Colors: We offer 2 standard colors; Brick Red, Forest Green, other color such as Desert Sand, and Sun Gray, available upon request with additional charges.
Wash stall application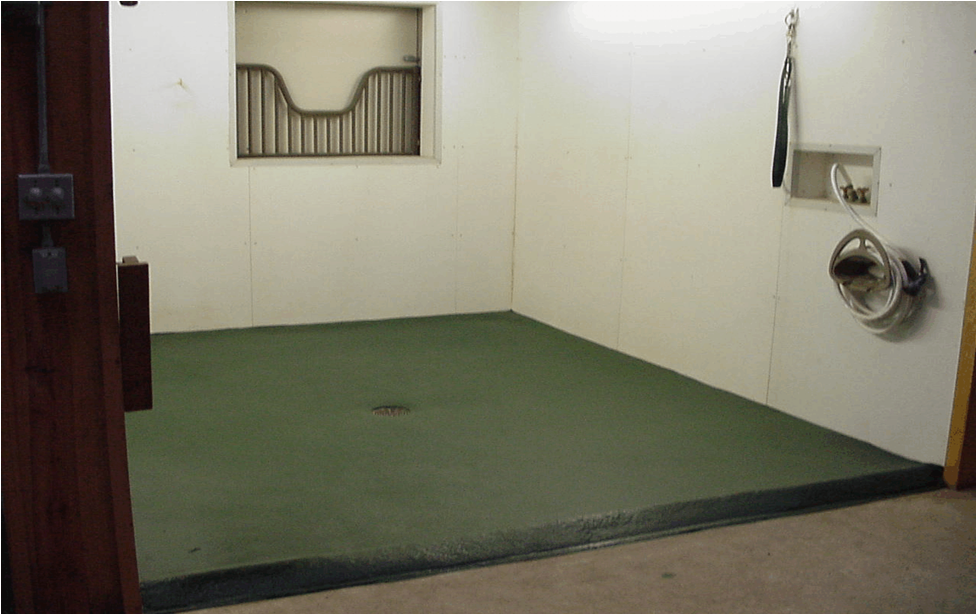 Stall application with wall pads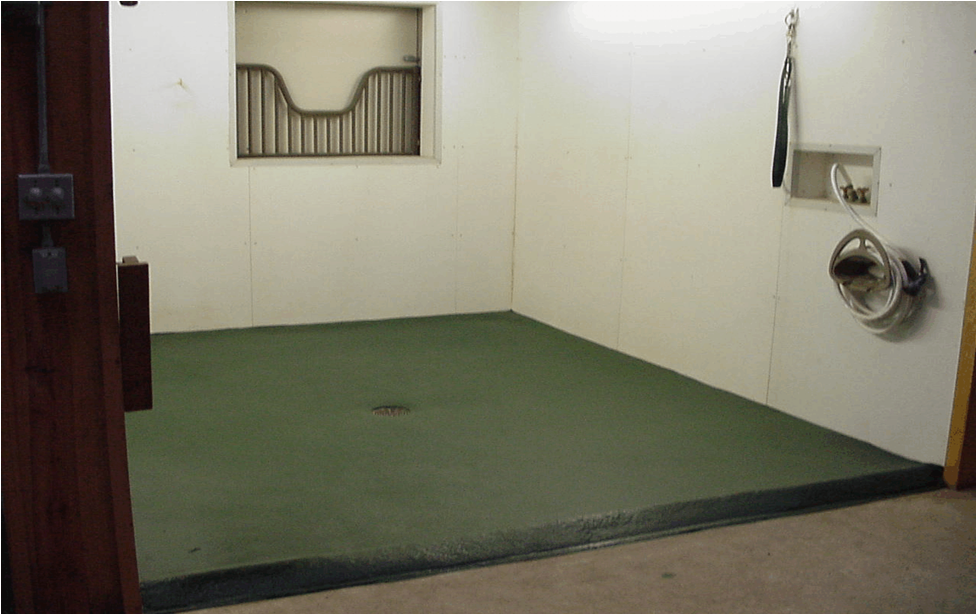 Wall pad application
Aisle way and Ramp Application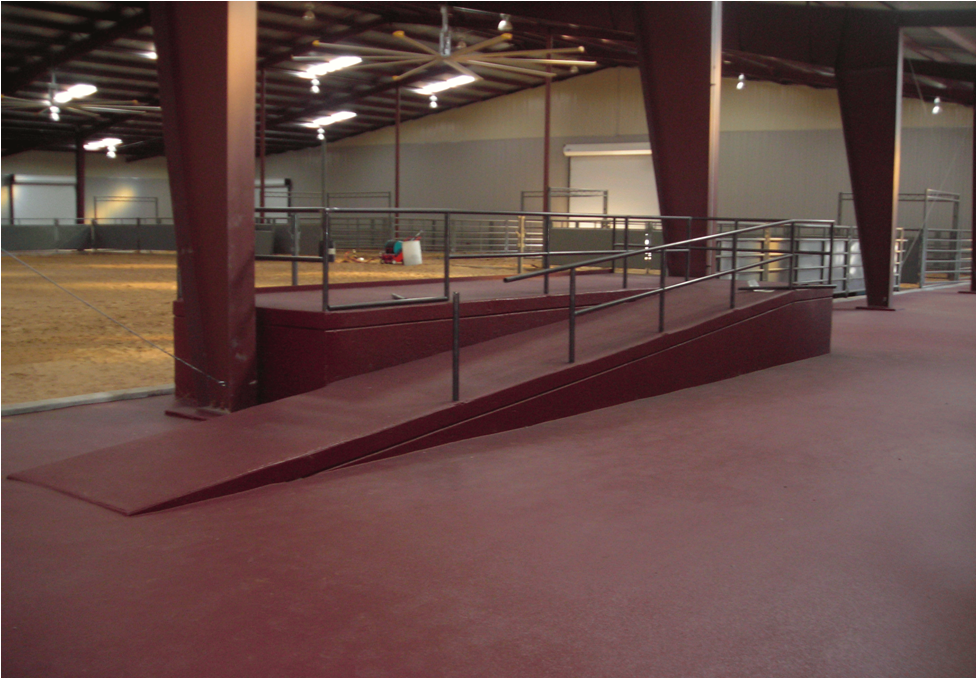 Latest Project: Royal Stables- Al Zallag, Bahrain:
Completion Date: November 2012
Total Area: 2,600m

2

1. First stage- installing rubber sheet on the concrete.
2. Second stage-installing the PU sealant.
3. Third stage- gridding the sealant layer
4. Fourth stage- pouring the PU self-leveling layer
5. Fifth Stage- pouring the PU color top coat & UV resistant
6. Project finished
Sarpco Equi- Safety Rubber Tiles:
Safe. Secure. Beautiful.
From Horse Stalls, Aisles and Breezeways to Patios and Driveways
SARPCO Equestrian Rubber Tiles are resilient and environmentally friendly alternative to traditional equestrian flooring materials. These soft tiles are made from 100% recycled tire rubber. They are exceptionally durable and highly resilient. SARPCO Equi-Tiles are also slip resistant both when wet or dry. They are incredibly comfortable underfoot... for humans and livestock alike.
SARPCO Equi-Tiles have been specifically designed for use in the equestrian environment. They are made from high density materials that provide excellent cushioning, without allowing permanent indentions to form.
The Tiles Conform to the following ASTM standards:
- ASTM F1292 Impact attenuation
- ASTM D2859 Flammability
- ASTM E648 Flammability
- ASTM D2047 Flip resistance
- ASTM D624 Tear resistance
- ASTM D1004 Tear resistance
- ASTM D412 Tensile strength
- ASTM D638 Tensile strength
- ASTM D695 Compression
- ASTM D149 Electrical break down
- ASTM D1044-99 Abrasion
Manufactured from recycled tire rubber.

Material is non-absorbent (steel and fiber are removed).

No filler materials are added.

Cuts stall cleaning time.

Level floors and no urine pits make cleaning easier.

Prevents damage to floors from horses pawing and digging.

No more "filling holes" every time you clean your stall.

Greatly reduces dust in the barn.

Reduces the cost of keeping stalls clean.

Saves money on shavings, (No need to deep bedding).

Stall pavers pay for themselves in savings on bedding alone.

Excellent cushioning for horse comfort.

Increased comfort and safety.

Relieves stress and reduces injuries.

Reduces fatigue on legs, hips and stifles.

Gives a good "hoof hold" when attempting to stand.

Hock scuffing and hoof abrading are virtually eliminated.

Reduces risk of thrush by keeping stall drier.

Easy to install, and one in place, they won`t move.

Will not curl or tear; they will lie flat indefinitely.

Good sound insulator. (Lower noise levels)

Good heat insulator. (Less condensation thru the floor)
Equi-Tile
Standard Colors

Sarpco Equi-Turf Arena Footing- Rubber Mulch
What is Sarpco Equi-Turf Arena Footing?
? The rubber you put in your arena will be clean and unused.
? Sarpco equestrian rubber mulch arena footing is recycled from the automotive industry which insures our guarantee of being 99.9% free of all wire, metal, or other foreign material.
? The rubber granules used for our footing material is the very same as professional athletes train on.
? Can be customized to fit your individual needs.
Why use Sarpco Equi-Turf Arena Footing?
Rubber Mulch Arena Footing is a strong, secure, dust-free footing produced from 100% recycled scrap tires. Mixed with sand or other surfacing materials, Best Rubber Mulch gives your arena optimum traction and shock-absorption that lessens the strain on horses. Even the weakest horses trot comfortably on Best Rubber Mulch`s resilient and elastic surface, protecting their legs and minimizing bone injury. The rubber granules retain just the right amount of moisture to minimize dust, and require a minimum of maintenance. Choose from an assortment of colors that suit your arena, and enjoy the benefits for years!
Remember, Horses perform better on Sarpco Rubber Mulch Arena Footing!

Advantages of Arena Fill Rubber Mulch:
Will not degrade like other materials
Greatly reduces dust
Low Heating point
Resilient/Elastic
Will not leach contaminates into soil
Guaranteed to last 5-7 years
Improves Your Arena In: Traction, Drainage, Appearance
Creates Less: Joint Stress, Fatigue, Maintenance, Compaction, Dust, Glare, Concussion
Sarpco equestrian rubber mulch can be mixed at a 2:1 ratio with washed Silica sand making great footing for the riding or show arena. (Silica Sand Available At Sarpco)

Application and Coverage:
? Surface preparation: Proper drainage and leveling of your existing surface is highly recommended. It is imperative to have a solid, well- constructed base.
? The sand used should be screened and cleaned and be a medium course, hard, quartz sand. Angular in shape versus a rounded river sand. Machined angular sand lays flat and will not slide like river sand. We recommend a 1" layer.
? The top dressing for the arena can come from many different types of materials but the one that will last the longest and provide the most protection is rubber. We recommend 1 to 1-1/2" of arena fill. Some recommend 2". Do your homework to make sure it is applied correctly. You don`t want too soft of arena footing.
? Coverage: Sarpco Equi-Turf Arena Footing works best when applied at 2.5cm- 3.5cm to a dustless sand, for both indoor and outdoor applications.
Length x Width of Arena = total Area in Sq.m.
? For 2.5cm of Depth footings, multiply total area ( ) Sq.m. by 10KG,
? For 3.5cm of Depth footings, multiply total area ( ) Sq.m. by 15KG
Example: For 2.5cmDepth if Arena Track is 50mX50m = 2,500 Sq.m.
2,500 Sq.m. X 10KG = 25Ton of Rubber Mulch is needed

Installation and Delivery
Packaging: Sarpco Equi-Turf Arena Footing can be packaged into two different ways to fit your specific needs: 20KG plastic Bags on wooden ballets, or 400KG Super Sacks.
Arena footing delivered in 20KG bags can be hand dumped and spread with a rake for your desired depth.
Arena footing delivered in super sacks should be dumped throughout the arena and spread evenly with a front bucket or rear blade.
After the material is dumped, it can be mixed in with a spike tooth drag or naturally by normal use.
Pricing is based on quantities ordered and is available upon request.
Delivery will be based on mileage and best transportation quotes obtainable at time of order. Cost will be added to the total invoice.
Note: Arena Footing is commonly delivered in a semi-trailer. Be sure you have access for a 3.5m long, 5m high, semi tractor and trailer. It is necessary for Sarpco ballets and super sacks to have a forklift or tractor with a front bucket for unloading purposes.