Used tyres stored in the open air can create a significant fire hazard, and a pollution hazard from smoke and liquid effluent from the fire. Such fires may also be difficult to control.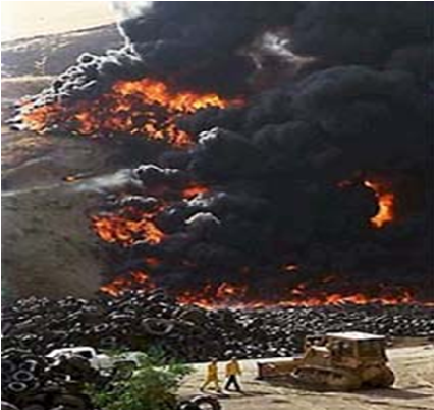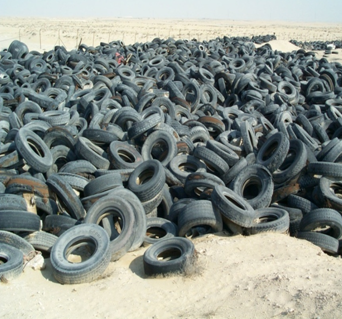 Risks Associated with Storage
Scrap tires along Saudi Arabia and the other GCC countries pose major health threats for the millions of residents, we can prevent the creation of additional scrap tire piles and clean up our countries communities.
Disease carrying pests such as rodents often inhabit tire piles. Mosquitoes – who breed in the stagnant water collected inside tires - can carry deadly diseases, including encephalitis, West Nile virus, dengue fever and malaria. Scrap tire fires are difficult to extinguish, and can burn for weeks or months. Tire fires release thick black smoke and can contaminate the soil with an oily residue. Furthermore, tire pile fires generate large amounts of liquid waste that contaminate soil and ground and surface water.
The Saudi rubber Products Co. Program works to protect the environment and public health and seeks to reduce pollution in water, air, and on land, by converting the Scrap Tyres into useful and attractive finished products. 

The philosophy of SARPCO is expressed in our environmental mission statement: 
To educate humanity-especially our youth-about the importance of protecting the wild lands and waters that sustain Earth`s biodiversity and ecosystems by working together on environmental stewardship and conservation efforts. Never doubt that a small group of thoughtful, committed citizens can change the world. Indeed, it is the only thing that ever has.
We in SARPCO are asking you to take part in an energy revolution. To go from a world powered by nuclear and fossil fuels to one running on renewable energy. Human caused climate change is a reality. Fortunately, there are proven energy solutions we can put to use today to provide sustainable development and energy for all. Will this energy transformation occur rapidly enough to avert the worst effects of a warming world? You will help decide the answer to that question. In a way, you have already chosen to act just by learning more about climate change and energy issues. Too often, people try to ignore environmental issues, or pretend the problems will go away on their own. Learning about the issues, and being reminded that we can make a difference, is the beginning of learning through conservation and recycling.