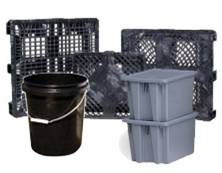 Plastics…it may not be the first thing that comes to mind when you think of De-vulcanized rubber compound, but adding Sarpco DRC into plastics saves money, improves processing and product performance, and increases the sustainability factor of the end product. DRCs are a great additive for plastic applications that need the additional inherent benefits of rubber, such as flexibility and durability. And, because DRCs are of micron scale they provide a smooth surface appearance on finished products.

When used with plastic compounds, DRCs act as a sound dampener, vibration deadener, and thermal insulator. In flooring, they help with anti-slip and anti-fatigue. DRCs do all of this at a lower cost than the materials they are replacing.
Use of highly processed tire waste in plastic compounds is growing 75% to 100% a year because the materials can replace more expensive plastic without compromising mechanical properties, also significant potential to use the material in polyurethane foam in car seating.