SARPCO is a specialist in hard-court surfaces for outdoor as well as potentially indoor surfaces. Hard-court flooring has been used globally for all kind of outdoor sports such as tennis (both Australian and US open are played on hard-courts), basketball, volleyball etc. It can also be used for skating, but there are specialized products that we also have. SARPCO imports Acrylic ITF certified (international tennis federation). from USA and EUROPE .Hard-court is popular due to the price attractiveness of the product combined with the colors that give your outdoor sports flooring area a more professional look.

PRODUCT
The hard-court product is mixed and installed onsite. We have three distinct ranges. We offer a color range of terracotta red, green, and blue. Further colors can be brought in for special orders.
5 layered up to 2 mm Thick ITF Certified Acrylic Product that is good for simple courts. Life span is around 5 to 7 years depending on how well it is maintained and how good the subfloor is. Good for children`s courts, or where low budget is critical
7 Layer up to 3 mm Tick ITF Certified Acrylic Product that is good for high quality courts. Life span is 6 to 8 years depending on how well it is maintained and how good the subfloor is. Good for tennis.
9 layered acrylic product ITF certified that is good for courts where comfort is important. Lifespan is 6 to 8 years. Good for games like volleyball or basketball where there is more pressure on the joints.
RECOMMENDED AREAS OF USAGE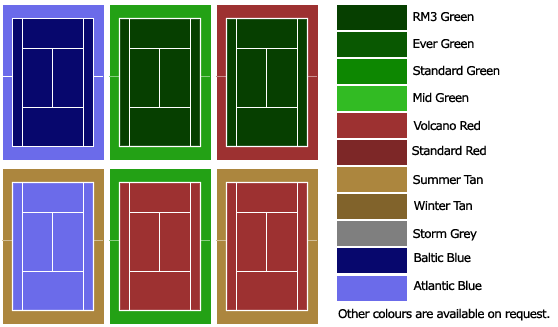 Tennis courts
Basketball courts
Volleyball courts
Outdoor badminton courts
Potentially skating rinks
Walking Tracks
Multipurpose use

ADVANTAGES
Multiple thickness means various price points to meet your budget and technical requirements.
Internationally certified which means high end quality with longer warranties.
Product always in stock, so quick deliveries are possible.
Multiple colors are available.
Best price to quality ratio in the market place.
Well tested product in Saudi Arabia with many installations done.
TECHNICAL SPECIFICATIONS
Our hard-court surface has following technical specifications-when you buy from SARPCO you are buying a quality product with long durability. The product has a one-year warranty. We recommend strongly to construct an asphalt sub base instead of concrete for the longest life span of the system. Drawings/details can be provided as required.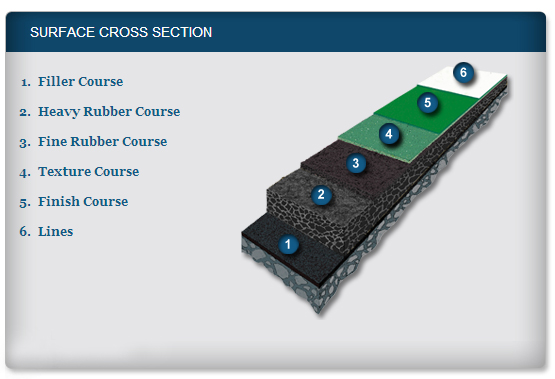 Primer layer: adhesive to the sub base especially concrete sub-bases
Cushion layer (if the cushion range)
Resurfacer
2 base coats: provides the color
Top coat for UV protection